I have been asked many times to create a motorcycle tool list that I carry. These motorcycle tools proved to be able to repair any issue I came across during the last 20 years of adventure riding. Different motorcycle brands, models and types.
It is always helpful to use the same motorcycle tools when at home and inside your garage as if you are on the trail. That way you can add anything that could be missing. I did the Husqvarna 701 clutch fix with these for example.
This motorcycle tool list is part #1 of the longer packing list, where I will cover clothing, camping, and other items.
I ride 90% of the time solo – many times hours way from the nearest town and multiple hours away from a service place/parts store. I learned what the carry the hard way over the 20 years I am riding this way, with a few times being stranded and a day ride becoming multi-day overnight trip.
The motorcycle tools list is the same for a day ride in Pacific Northwest where I live as well as a long, multiday trip like my last 2000 miles (3000km) trip to Baja, Mexico. The only exception is that for multiday trips I carry an additional 21″ spare tube.
Please keep in mind that I use the R/G bash plate https://www.radegarage.com/parts-us/ktm-690-skidplate-us/ with tool storage. (if you have KTM 690 or Husky 701, I strongly recommend it for you to consider.) Because of that, I have the luxury carrying some items that may seem duplicate (hex keys and hex sockets) and also additional not specific to my bike. If you need to go super light, just remove those duplicate items from your own motorcycle tool list.
I carry them in the textile bags inserted into a ziplock as the R/G bash plate is not 100% waterproof, especially in river crossings.
Everything on the left (1 black and 2 silver pouches + zip ties) goes into the bash plate. The one black on the right I carry in my luggage on the rear.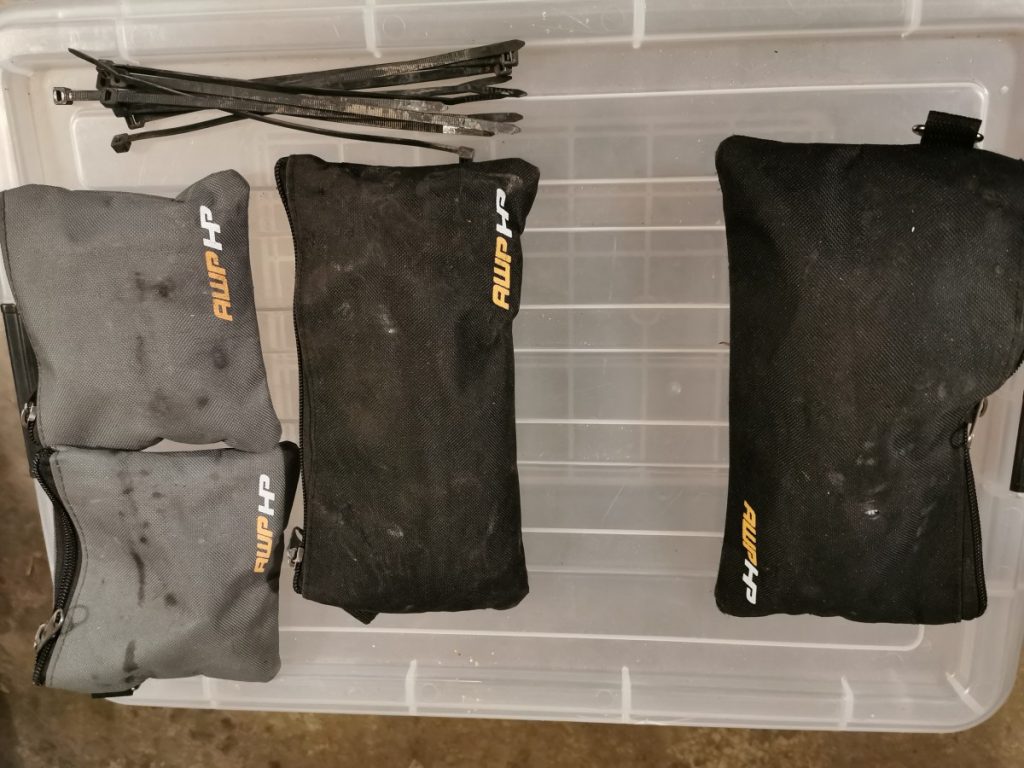 Motorcycle tools Pouch #1 (heavy, inside R/G bash plate)
Combo wrench: 7mm
Side + ratchet wrenches sizes: 8,9,10,12,13,14
8 inch wise grip
tire sppons
3/8″ ratchet extender
3/8″ ratchet
JB Weld (life saver!)
Spare master link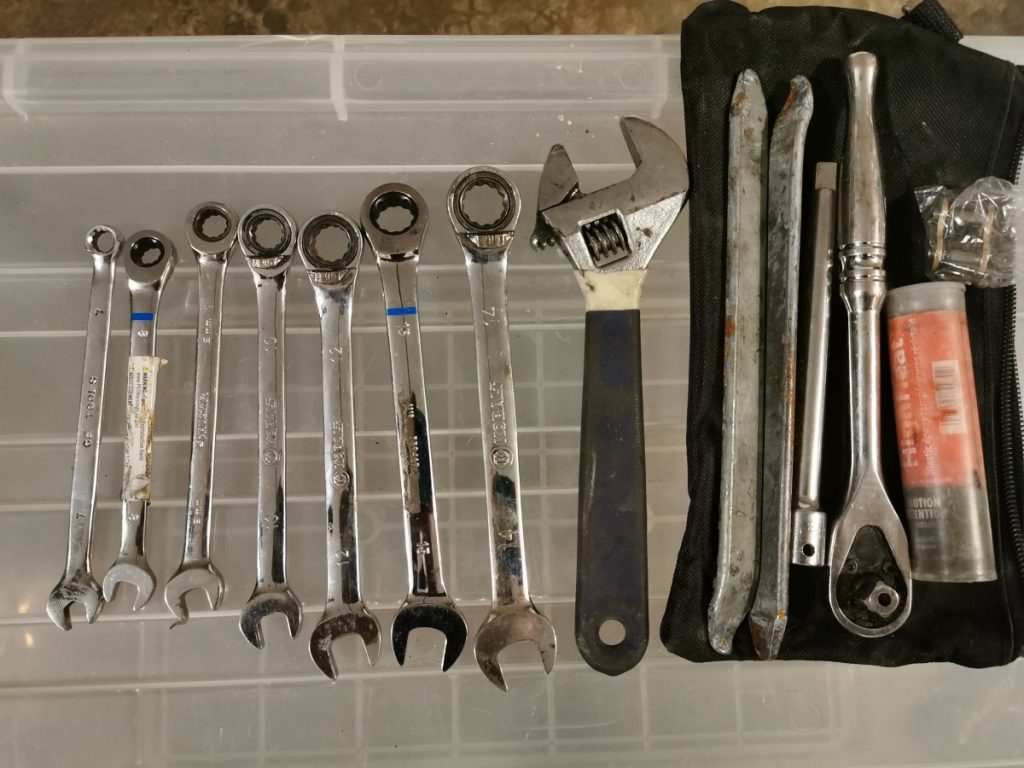 Motorcycle tools Pouch #2 (heavy, inside R/G bash plate)
Screw and nuts assortment
Hex keys 1.5, 2, 2.5, 3, 4, 5, 5.5, 6, 8, 10 millimeters
Set of bits: HEX 2, 2.5, 3, 4, 5, 6 millimeters, flat size 1-3, Phillips size 1-3, Torx T8, T10, T15, T20, T25, T27, T30, T35, T40
Husky blade knife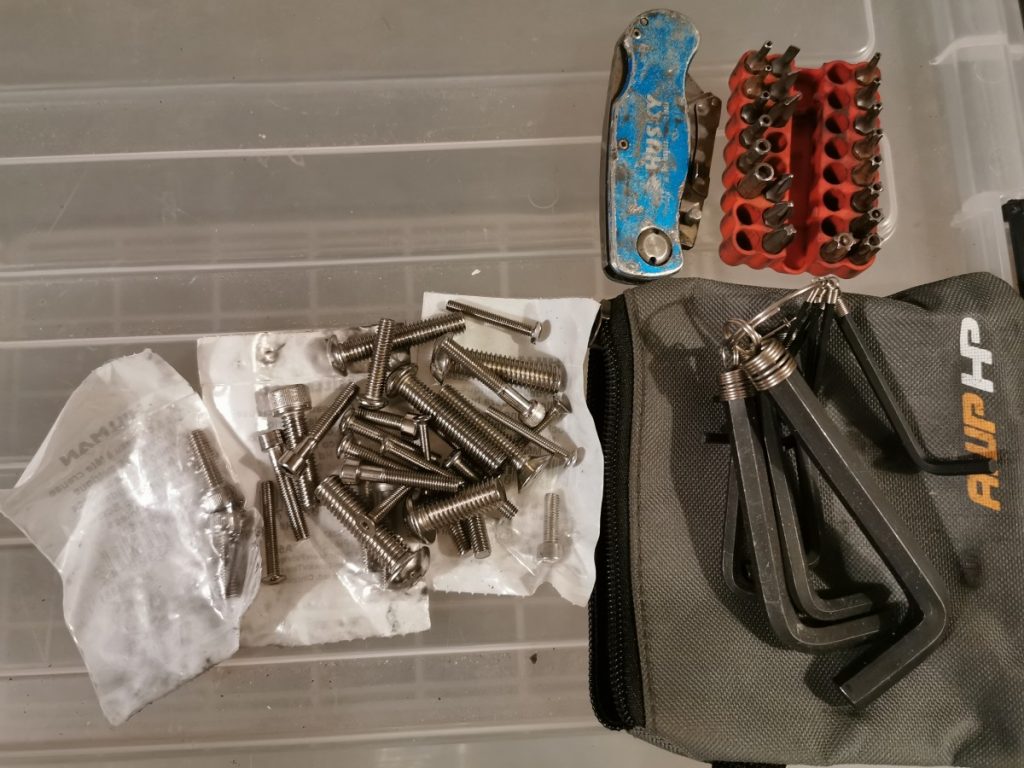 Motorcycle tools Pouch #3 (heavy, inside R/G bash plate)
Spark plug socket (14mm deep for Husky 701)
Angle sockets for 3/8 and 1/4 and 3/8 to 1/4 conversion
Hex key sockets 4,5,6,7,8 mm
Torx sockets T20, T30, T40, T45
Sockets: 8,10,11,12,13 mm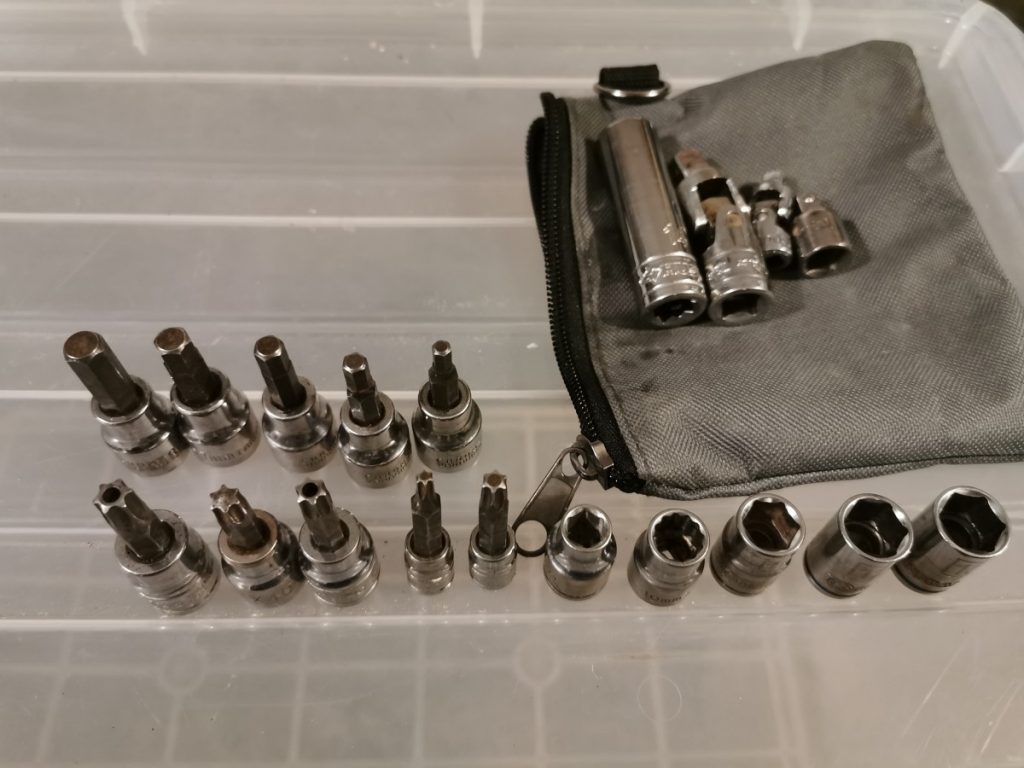 Motorcycle tools Pouch #4 (carried at the rear luggage)
Slime pressure gauge tool
Side stand bypass dongle
Tube patching kit
Googles/helmet visor cleaner and a small cloth
Husky Long Nose Locking Pliers
High-pressure hand pump (goes up to 130 psi for Tubliss)
27mm/32mm wrench for axle nuts
Husky ratcheting handle for bits (in the red holder)
300 lumen headlamp (not in the picture)
With this set I became the "go to guy" on trails however, others carry more in their trucks/campsites like rivet tools for chains, torq wrench etc. This list helped repair many bikes on the trails, at least to the point where they can get to the nearest town.
I hope this helps, the next part will be clothing, food/camping.